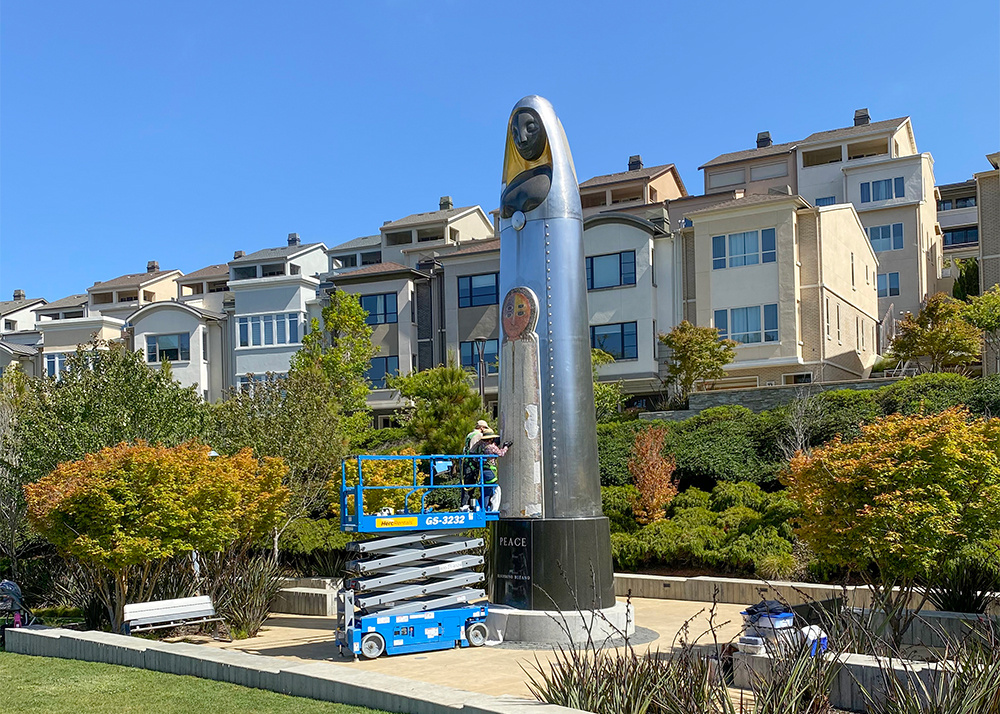 Caring for Bufano's Peace Sculptures in a Time of Unrest
This summer, our conservation team had the opportunity to work on two significant outdoor sculptures by Bay Area artist Beniamino Bufano: Peace in San Francisco and Hand of Peace across the Bay in Walnut Creek. Bufano's artwork can be found in public places throughout the Bay Area. He was an Italian artist who first arrived in San Francisco in 1913 to participate in the Panama-Pacific International Exposition of 1915, then returned in the early 1920s as an instructor at the San Francisco Art Institute. By all accounts, he was a colorful character. His modernist mindset clashed with the school's old-school ways and quickly led to his dismissal, although he would later go on to teach for other Bay Area institutions. An outspoken pacifist, he claimed to have cut off his trigger finger and mailed it to President Woodrow Wilson in protest against military action during World War I.
Bufano created both Peace and Hand of Peace during times of political instability and civil unrest—the late 1930s and the late 1960s. His message of peace, love, and unity continues to serve the community well during these dark times, and we're proud to help care for both artworks.
In his sculptures, Bufano worked with a variety of materials, mixing and matching techniques to create powerful images. Both Peace and Hand of Peace are constructed of metal forms decorated with mosaics, gilding, and stained glass. As is typical with outdoor monuments and artworks, there were no existing documents to tell us how they were constructed and what materials were used during fabrication, although there were historic photographs for us to review. As with all outdoor sculptures, the enemy is weather. These two artworks have unique details that have responded somewhat differently to the Bay Area environment. 
Peace
Bufano created Peace for the San Francisco Arts Commission in the late 1930s. For years, it occupied a site at the San Francisco International Airport. In 1996, it was relocated to the side of a dog park at the edge of San Francisco's Summit Park neighborhood. Approximately 38 feet tall, it consists of stainless steel, gold leaf, granite, and a tile mosaic. The San Francisco Arts Commission called us in for emergency repairs when mosaic pieces were found lying on the ground.
When we investigated, we found that a number of sections of the mosaic were bulging. Weather was the culprit: in warmer temperatures, the mosaic's steel frame expanded, which over time led some tiles to detach. In addition, water had been getting behind the tiles, which caused the connection between them and the mortar beneath to fail.
Removing detached tesserea from mosaic panel. This section was reinforced with cheese cloth prior to removal.
Detail of tesserae after removal of mosaic section.
Our conservators tapped the mosaic all over and listened closely for a hollow sound. They mapped out ten different areas where the tiles were detaching. We put a facing tissue over the mosaic, removed the areas that were failing, took them offsite to clean and prepare them, and then reattached them. We added a sealant joint around the perimeter of the mosaic and regrouted all of the tiles to make sure they would be watertight in the future. We'll keep a close eye on it this winter to see how it's faring.
Cleaning and reinforcing sections of removed tersserae.
Replacing and reattaching missing teresserase.
Detail of mosaic section after treatment.
Peace sculpure mosaic panel after treatment.
Hand of Peace
Originally created for the San Francisco Arts Commission in the late 1960s, Hand of Peace was later sold to developer Bill Swigert, who installed it in a Walnut Creek office park. Then the city of Walnut Creek purchased it and placed it in Civic Park. It consists of a 30-foot-tall bronze and copper hand form resting on a concrete base, with a mosaic of tiles on the palm, depicting a group of children, and colorful stained glass around the fingertips. We don't know for sure, but we think Bufano cast it in his studio.
Detail of existing anchoring system of the sculptures stained glass elements.
Hand of Peace after treatment
In this case, the city of Walnut Creek called us in for a routine maintenance check-up. Hand of Peace was in better shape than Peace, but we did find issues, including a failure of the sealant between the sculpture and the base, as well as overall weathering of the previously applied wax coatings on the metal. In addition, some of the stained glass at the top was loose. We used a 45-foot articulating boom-lift to reach all areas of the sculpture. We performed cleaning, reapplied a protective wax coating, replaced the deteriorated sealant at the base of the sculpture, and secured hardware and glass tesserae. We also applied an anti-graffiti coating.
Both sculptures have a message of peace that is highly resonant in our times. It seems fitting in this time of protest and renewed sensitivity to justice that both of these sculptures have been renewed, colorful and prominent symbols of Bufano's deep commitment to pacifism and creativity.