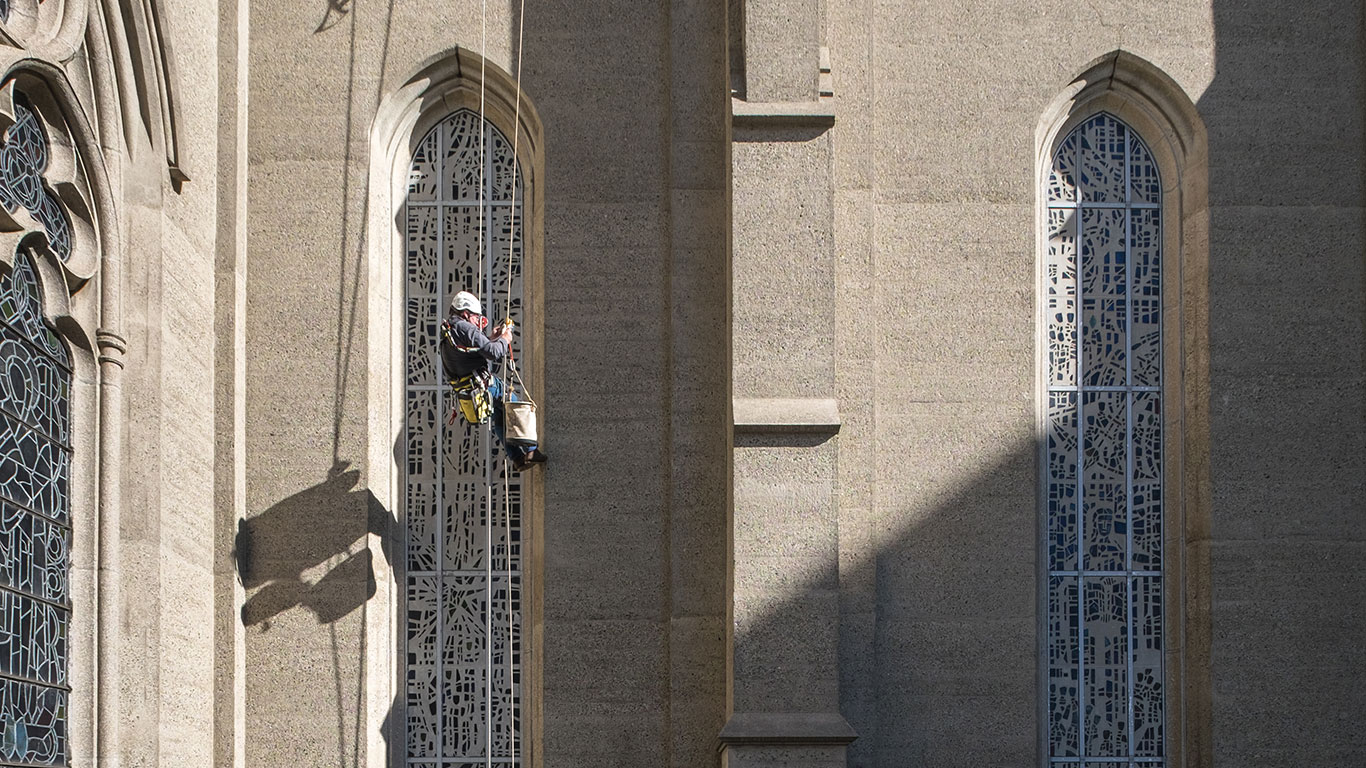 Rope Swings – Rope Access Reduces Inspection and Repair Costs
Maintaining commercial buildings, especially older ones, can be full of surprises. Frequently, the focus is on interiors: lighting, air quality, access, and so on. It's the exterior that is sometimes forgotten about and as a result can develop conditions that take us off guard. Falling hazards due to loose façade material are unfortunately more common than we would like. This is the reason that San Francisco enacted its façade ordinance requiring a visual inspection of all buildings five stories and over in the next 10 years. No doubt loose material will be identified on many buildings, and owners will need to erect sidewalk pedestrian protection and then undertake a façade repair project.
To access the façade, the building will need to be rigged using a swing stage scaffold hung from the roof or a temporary stationary scaffold, also referred to as pipe scaffold. I have watched the price of scaffolds rise dramatically in the last 15 years. We have been finding that scaffold accounts for 20 to 50% of the cost of a project.
Swing stage scaffold.
Rope access technician getting into position.
When I first started my career, waterproofing and masonry companies would rig buildings themselves. Now there are scaffold subcontractors who do the rigging. Perhaps we can turn to our friends in the legal profession for an explanation of why this change occurred. In any event, scaffold access is expensive!
However, sometimes a building may have only a very few conditions that need attention. In this case, rope access may be an alternative to pipe or swing stage scaffolds. There are essentially two reasons to consider using rope access: 1) for inspecting at close range conditions that cannot be seen easily from the ground, and 2) for repairing isolated conditions such as falling hazards when the façade is otherwise in serviceable condition.
Our first use of rope access for repair of isolated conditions was at Stanford University's Hoover Tower. After we had completed a restoration of the tower, Palo Alto experienced a 100-year wind storm that knocked loose some of the flashing we had installed. Reinstalling scaffolds so we could reach the base of the dome would have been extremely expensive. So we looked into using rope access. After several safety meetings for safety and planning, the university accepted our proposed solution. The flashing was successfully reattached to everyone's satisfaction.
We have inspected many commercial buildings in the last 30 years and found that a trained eye can detect many conditions with good binoculars or a spotting scope. However, I was recently reminded how helpful a close-range tactile survey can be. Our client wisely asked for a rope access survey of a representative portion of a terra cotta building. We found several conditions on the building that were not visible from the ground but required repair. The drawings prepared for remedial repair of the façade were far more accurate when we used the information from the rope access survey. This step helped to reduce the potential for change orders during construction. The cost for a one-day rope access survey was minimal in terms of overall project budget, but it made a significant contribution to lowering costs during the construction phase by helping to eliminate surprise conditions.
Rope access is as safe as using scaffolds. The training is rigorous, and the technician always has two lines. The technician on the ground is also certified and is trained in making a rescue, if needed.
As far as we know, ARG Conservation Services is the only design firm providing rope access inspection and repair. A few national engineering firms provide rope access services for design firms, but only for recording and documenting conditions—they don't offer repair work.
If there are more than a handful of life safety or waterproofing issues that need to be addressed, then swing stage or stationary scaffolds are probably the better option. But in a number of instances, this alternative is just as effective. So consider it as an option next time you're looking to rope in maintenance costs.