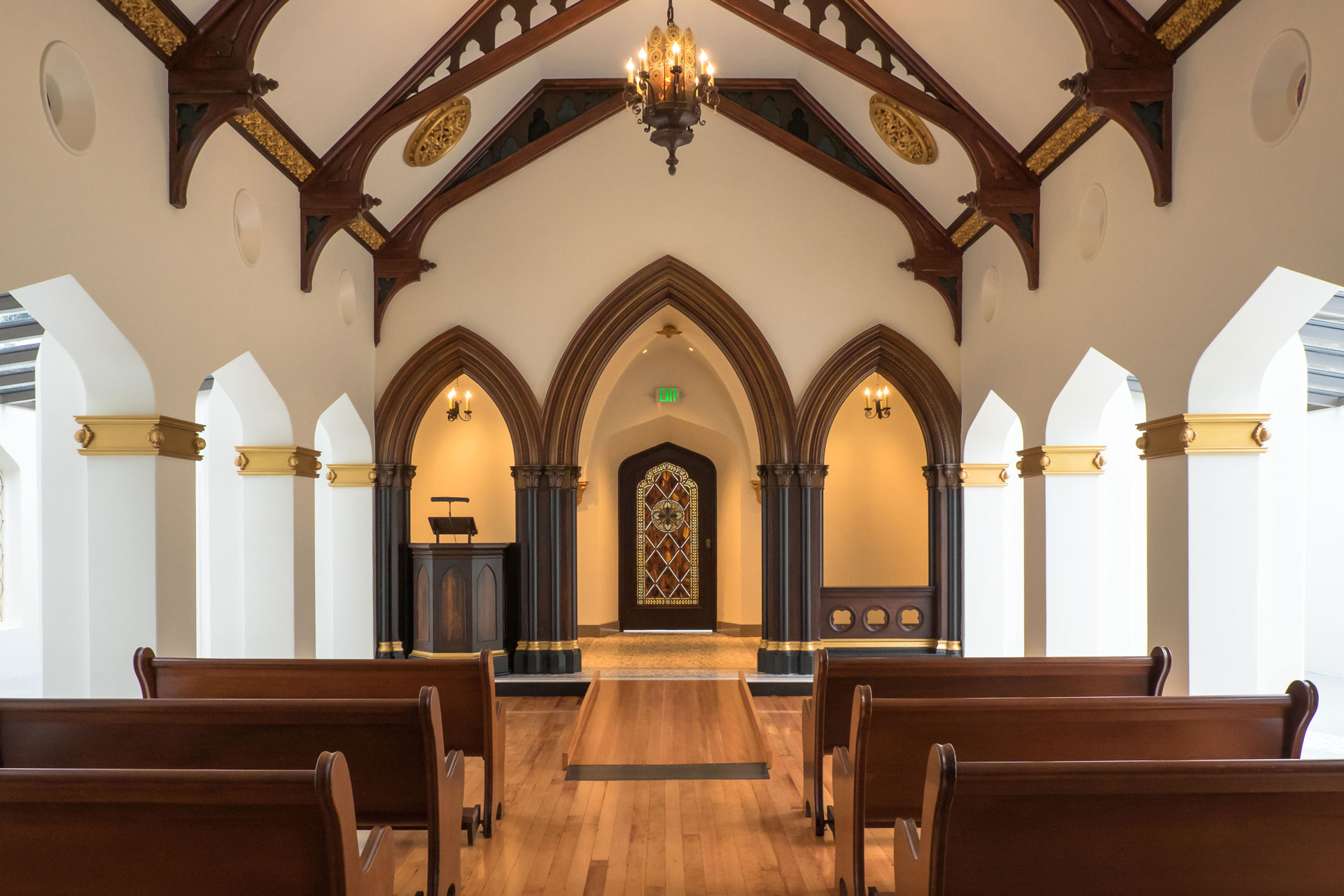 An Interview with Kenneth Varner – Cemeteries as Repositories of Historic Resources
Last year, ARG and ARG Conservation Services completed the renovation of the historic Noble Chapel at Cypress Lawn Memorial Park, the latest of our projects with the cemetery. Recently, our principal David Wessel talked with Kenneth Varner, president and chief executive officer of Cypress Lawn, to get his take on the role of historic structures in cemeteries.
Q: How far back does Cypress Lawn's history go?
Kenneth Varner: Cypress Lawn was founded in Colma in 1892 by Hamden Holmes Noble. However, some of the vaults here are older than that because they were transferred from the Laurel Hill Cemetery. Laurel Hill was started in 1856 on Lone Mountain, next to the University of California San Francisco Medical Center. It was a beautiful garden cemetery, with wide streets and gas lantern lamp posts. In the early 20th century, the city fathers said that the cemeteries in San Francisco had become eyesores. They were in complete disrepair, and there were no funds to maintain them. As a result, the city did not allow further burials within the city limits of San Francisco, and in 1912, they evicted the cemeteries that were already there. That's how Colma became the cemetery district for San Francisco. Laurel Hill's directors chose Cypress Lawn to receive the 35,000 people buried there.
However, people started moving before then. Prior to the 1906 earthquake, the Flood family, whose James L. Flood built the Flood Building in San Francisco, relocated its private family mausoleum to Cypress Lawn. At the time of the earthquake, the mausoleum was disassembled and on the grounds of Cypress Lawn awaiting reassembly. It's the largest private mausoleum on our property. It's a beautiful building.
Q: Cypress Lawn has a number of historic structures, like the Noble Chapel, which was built in 1892. How do you see your role, as stewards of these historic resources?
Varner: Cemeteries are much more than just places for us to remember our deceased loved ones. They become stewards of history. But the real history here is not only the architecture. For example, the Noble Chapel was designed by the well-known San Francisco architect T. Paterson Ross—but what really interests me is that it's designed after St. Giles Church in Stoke Poges, England, where Thomas Gray wrote his famous 1751 poem "Elegy Written in a Country Churchyard."
The landscape is also a major part of our historic asset. The garden cemetery movement in the United States began in 1833 with the creation of Mount Auburn Cemetery in Cambridge, Massachusetts. This movement was important because the idea was that cemeteries would also be parks, where people could reflect in a peaceful setting and remember their loved ones. And the community as a whole could enjoy the park too. We take that legacy seriously. People love to bring their children here and feed the geese by the lakes. I don't know how many times I've heard people say, "I brought my children to Cypress Lawn to feed the geese."
We want Cypress Lawn to be defined by its landscape, not its architecture. In some cemeteries, there are ornamental gardens, but they were created to enhance the architecture. We want the landscape to be the main focus. Père Lachaise Cemetery in Paris, the first garden cemetery, is so full of architecture today that the original intent has been overwhelmed. Here we have the opportunity to stay true to the garden cemetery movement by maintaining the landscape.
Q: We first met when you brought our firm in to create a historic resource report. What was the motivation to take this step?
Varner: We have an obligation to maintain the historic character of the property, but you can't maintain it if you don't know much about it. When I came to Cypress Lawn, we had very little information about the buildings or the landscape. We brought you in to find out more. We started with the Catacombs, our mausoleum that was built in 1910. We hold a lot of tours to show the art and architecture of that building, which features art by well-known artists as well as a fantastic stained-glass dome. But we didn't have any kind of information about the building. And we brought you in again in 2006 to do the same thing with the Noble Chapel.
We also hired Russell Beatty to create a historic resource report on the landscape. As a result, we now we have a foundation of knowledge about this landscape, starting from before Cypress Lawn was built all the way to the present. We even inventory all of our trees.
Q: It seems like maintaining the historic fabric, whether that's a chapel, a monument, or a landscape, is integral to Cypress Lawn's brand, if you will.
Varner: Yes. We're a museum, and we're a cemetery where people lay their relatives to rest. We're helping families every day, and that provides the funds to run this place and keep everything in shape. The museum side of our business helps support maintenance of this facility. And the sense of history helps reassure people that we're going to be here 100 years from now.