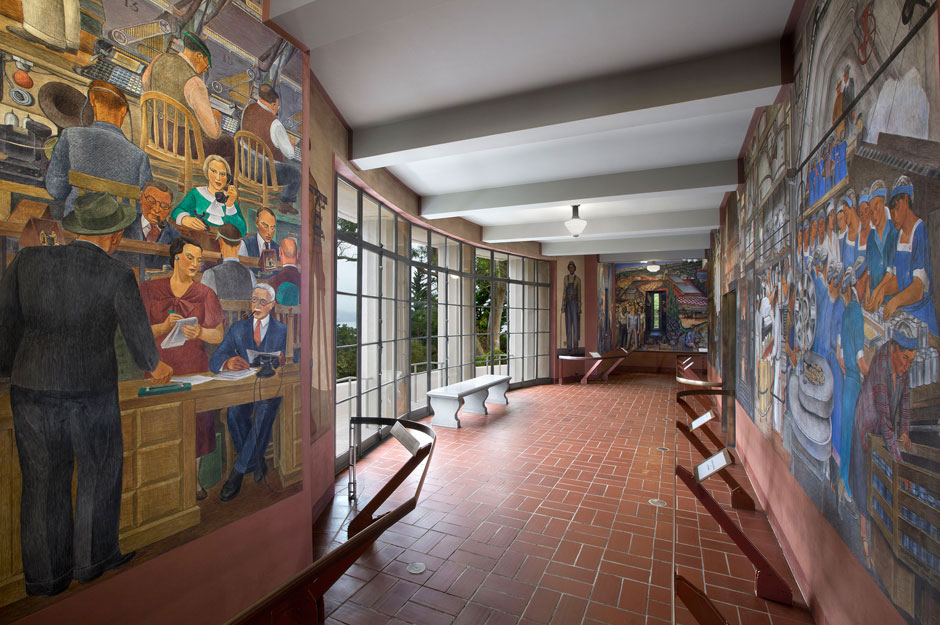 Coit Tower – Mural Conservation Begins
The San Francisco Arts Commission has undertaken conservation treatment of the interior murals at Coit Tower, one of the most important troves of WPA-era artwork in the country. This work is starting on the heels of an extensive repair project for the building, led by the San Francisco Recreation and Park Department.

ARG Conservation Services has teamed with Anne Rosenthal Fine Art to address the murals on the first and second floors. We will be posting updates of the ongoing work to share progress.
The last couple of days have been full of mobilization tasks such as setting up scaffolding and organizing supplies. Much has already been accomplished on the building, including a new painted plaster finish on the ceiling. The murals are going to shine more then ever when everything is complete. And after months of monitoring the building, following along with the work on the interior and the exterior, our team is ready to get to work on the site. Several teams will overlap this next week – including muralists, painters, artists, masons, electricians, and carpenters. It takes a village.
We are concentrating our initial work in the west gallery of the building, allowing the building team to continue work in the other galleries, the lobbies, and restrooms. Conservators are starting by inpainting small abrasions with a reversible paint system and testing treatments on flaking finishes that barely cling to the surface. Further testing is underway on the stucco borders that frame all the frescoes, as these show wear from years of foot traffic. This testing is informed by a condition assessment conducted in early January that focused on the types of damage and deterioration on the surfaces. In that study a majority of the assessed conditions were small scratches or abrasions, which could result from something as simple as a backpack or purse interacting with the frescoes. Other typical damaged conditions were more dramatic and greater in size, called gouges, as well as some flaking, water damage, and efflorescence (from salts).
Frescoes are a unique medium, different from other types of murals as the paints used do not have a binder. Rather, the paint is applied to fresh plaster. A chemical process then traps the pigments into the top layers of the plaster to form a design. Most paint systems include a pigment and a binder, which allows the paint to glide across and bind to the surface being painted. Thus fresco has a different textural display.
Detail photos of some of the murals are below, displaying the unique texture. Click to enlarge.